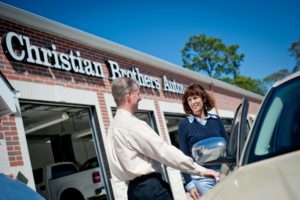 Preventative maintenance and routine service checks will help you avoid costly repair bills and extensive repairs in the future. By working with your local auto mechanic and checking key systems and parts of your car on a regular basis, a few simple steps will keep your car—and wallet—in tip-top shape.
1.Check your fluids
Keep a close watch on your vehicle's fluid levels. Schedule an oil change every 5,000 miles or as directed in your car's owner's manual. Proper coolant levels will also keep your car in good condition and help your cooling system operate. By neglecting this simple, routine maintenance, it's likely that you'll face poor fuel economy, unreliability, or costly breakdowns with your vehicle in the future.
2.Rotate your tires
Rotate your tires to maximize tread and evenly distribute wear and tear. By adhering to regular tire rotation, you can extend the life of your tires and better guarantee your safety.
3.Check your brake system
To ensure your safety, ask your local mechanic to check your brake system on a regular basis. For example, have them looked examined each time you have your oil changed.
4.Weatherize your car
As you prepare to face the intense weather conditions and temperatures of winter or summer, make sure your battery, cooling system, and windshield wipers and wiper fluid are ready for the challenge. Let your local auto repair mechanic take a look.