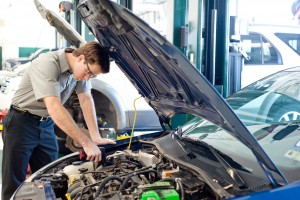 If you've ever seen a car or truck commercial, you've likely heard about a car's drive. Many SUV's boast "four-wheel drive" or "all-wheel drive", while other vehicles may advertise their front-wheel drive or rear-wheel drive.
While the terminology may not be new, it can be a challenge to understand what these terms mean. In a vehicle, the drivetrain connects the engine to the wheels. Today, the auto repair experts at Christian Brothers Automotive Jackson are going to explain the four different types of drivetrains and what they mean.
Front-wheel Drive (FWD)
All of the engine's power is sent to the front two wheels
The drivetrain pulls the car down the road
Gives the car more traction
Expect more stability, predictability and dependability during the winter
Vehicles with front-wheel drivetrains include the Toyota Camry and the Honda Accord.
Rear-wheel Drive (RWD)
All of the engine's power is sent to the back two wheels
The drivetrain pushes the car down the road
Not recommended in areas with icy winters due to low level of traction
Expect good balance and superior braking and handling
Examples of rear-wheel drivetrains include the Lexus IS Series and the BMW 3 Series.
All-wheel Drive (AWD)
A more complex system than FWD or RWD
The engine's power is sent to all four wheels
Has fluid-filled differentials or gears and advanced electronics
Expect superior capability for winter driving on slippery and wet roads
Examples of vehicles with all-wheel drive include the Subaru Legacy and the Acura RL.
Four-wheel Drive (4WD)
Similar system to AWD
The engine's power is sent to all four wheels
Typically more robust
Designed to handle off-road driving
Examples of four-wheel drive vehicles include the Range Rover or the Ford F150.
These are the four different types of drivetrains, and the capabilities you can expect from each. Despite the unique differences with each, the ASE-certified technicians at Christian Brothers Automotive in Jackson, Tennessee are able to handle whatever drivetrain your vehicle is equipped with. Call our Jackson drivetrain repair shop for an appointment today, and we'll show you the Nice Difference!