In case you haven't heard, Texas has new guidelines for the state inspection and state registration stickers! The state has moved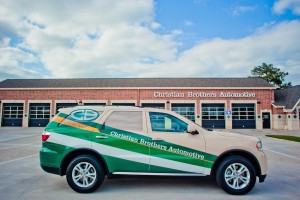 to a "single certificate" system. This means you'll only need one sticker to represent both requirements.
To help you fully understand the new system, the friendly Christian Brothers Automotive Green Oaks auto repair technicians are going to explain how it all works.
How the Texas single sticker system works
Beginning March 1, 2015, all Texas drivers have to pass a vehicle inspection before their registration can be renewed.
What does this mean? When you bring your car into our auto repair and service center for a state inspection and emissions test, you won't receive an inspection sticker. Instead, our knowledgeable technicians will walk your car or truck through the state inspection process (the same as always), and then put your vehicle's information into the Texas Department of Public Safety (DPS) inspection database.
If the DPS inspection database is not available, or you drive a commercial vehicle, you may also be given a Vehicle Inspection Report (VIR) as proof of inspection.
How the new inspection and registration system affects Texas drivers
For North Texas drivers, the state inspection and registration process will fortunately remain the same. The cost of a state inspection at our auto center in Grand Prairie will even be a bit cheaper!
If the expiration dates for your registration and inspection stickers are different, don't worry – you won't have to go through the process twice a year. During the first year of the new program, you'll be able to register as soon as your vehicle passes inspection.
If the expiration dates for both stickers are the same, your vehicle is already considered "in-sync". This only means you must have your car or truck inspected within the 90-day period before your registration expires.
Commercial vehicles will continue to follow the current annual inspection requirements.
How should you handle the inspection process moving forward?
From March 2016, all vehicles will be required to pass a vehicle inspection within 90 days of their registration expiration date. If your vehicle doesn't pass inspection within that time, or if you completely forget to schedule an inspection before trying to register, the state of Texas will not let you register your vehicle.
State inspection and emissions testing in Grand Prairie
We're not your standard car repair shop! Despite the new regulations, the dedicated professionals at Christian Brothers Automotive Green Oaks will continue to offer the same great service as always. If your registration expires soon, don't hesitate to make an appointment for a state inspection. If you have any questions about the new law or your vehicle's inspection and registration requirements, call to speak with one of our experts.
Call to schedule your state inspection at Christian Brothers Automotive Green Oaks in Grand Prairie, Texas today. We'll show you the nice difference!