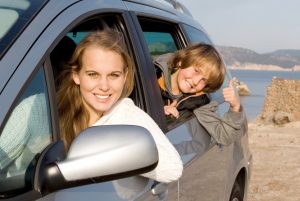 School is finally out for the summer and all the Buda families are ready to enjoy some fun in the sun! In fact, many Buda drivers are preparing for those summer road trips as we speak. Whether it's the beach or the trails calling you this summer, you need your vehicle to get you safely there. There's no quicker way to ruin summer travel plans than having automotive troubles along the way. At Christian Brothers Automotive Buda, our ASE-certified technicians are here to make sure no vehicle troubles stand in the way of your summer plans. Here are a few auto repair maintenance items you should have squared away before you head out.
Grab an Oil Change on Your Way Out
Can you remember the last time you had your oil changed? At least once every 5,000 miles you should get this taken care of. You don't want old, dirty oil ruining your engine while your driving down the road. Having your oil changed is quick and easy at our local Texas auto repair shop.
Keep Your Windshield Crystal Clear
Before embarking on any long road trip, it's a good idea to make sure your windshield wipers are in good condition and the wiper fluid is at the correct level. Chance thunderstorms and plenty of bugs are always a possibility on any road trip. Wipers that survived the winter may still be subject to warping, making them unusable, as the heat sets in.
Got Coolant?
In the summer, your vehicle can get really hot. When you add the summer heat to the regular heat your engine emits, it can easily lead to overheating in the engine. Help your car tackle the challenge of maintaining low engine heat by ensuring you have the correct amount of coolant to get the job done.
If you are ready to have the best summer vacation possible, make sure your car or truck is ready for the trip! This list will get you started, but if you've noticed anything else about your vehicle that's been troubling you, please mention it to one of our qualified technicians at Christian Brothers Automotive Buda, near Kyle, in Texas. Our friendly staff will handle any of your concerns. Our goal is to keep your family safe and having fun this summer! Give us a call at our auto repair center in Buda to schedule an appointment. Have a great summer and see the nice difference!