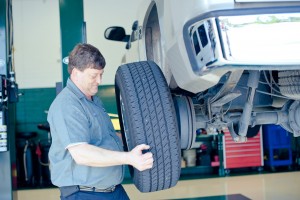 We all know Texas weather can be erratic and turn on you in an instant. It could drop below freezing one day and be a beautiful 80 degrees the next. Regardless of the weather we're in store for this winter, you and your vehicle should always be prepared. Just as you start wear warm layers and a coat during the holidays, your vehicle must also adjust to the dropping temperatures.
At Christian Brothers Automotive Brodie Lane, we want to help our customers stay safe on the road this winter. The ASE-certified technicians at our local Austin auto repair shop have four essential tips for getting your car ready to face the frigid elements.
Check the tire pressure
As the temperature starts to drop, so does the air pressure in your tires. Air compresses in cold climates. This means your tires will need some extra air in order to be properly inflated. Most drivers are surprised when they turn their car on and the tire-pressure light shows up. It's a good reminder to have your tires inflated.
The tread of your tires also helps you maintain traction on the road. At our local Austin, TX repair shop we include a tread depth measurement with every oil change to make sure we're sending you back on the road safely. If you don't take care of your tires, your vehicle won't have the proper traction for traveling over wet, snowy, or (most likely) icy conditions.
Keep your windshield clear
Many drivers in Texas have difficulty dealing with the condensation that spreads across the windshield during the colder months. If you're hopping in the vehicle for your morning commute, it can be inconvenient to wait for your defroster to clear the windshield. Remember, the Texas heat will destroy your wiper blades. You should always get a new set once the weather cools down so they work effectively. Making sure you have enough wiper fluid in the reservoir is also handy. Finally, check to see if your defroster and heater are working properly so you can keep the windshield clear as you drive.
Replenish your antifreeze levels
Antifreeze is designed to keep your engine from overheating as well as freezing during the winter. Your radiator is what keeps your engine at the right temperature and is where the antifreeze is found. The mixture in the radiator should be 50% water and 50% antifreeze. If the balance is off, then your engine is more likely to be damaged. Always make sure your radiator has the proper mixture before heading into the winter season.
Check your battery's strength
Whenever we perform an oil change our ASE-certified technicians also perform a complimentary battery condition test. Slight drops in temperature can diminish your battery's capacity, especially if it's already weak. It's better to check your battery now and replace it than be stranded on the road.
Winterize your car at Christian Brothers Automotive Brodie Lane
Many Austin residents forgo automotive preparation before the temperatures drop. These drivers will most likely need assistance on the road. The experts at our auto repair center in Austin are ready to make sure your vehicle can stand against the dropping temperatures. We offer all of our customers a courtesy inspection and back most of our services with the 2-year/24,000-mile Nice Difference warranty. Call Christian Brothers Automotive in Austin, Texas today to schedule your next courtesy inspection, and see the nice difference!