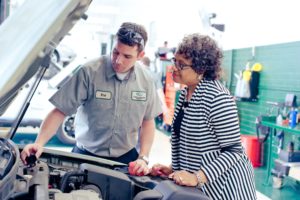 Winter is coming, and Amarillo residents are about to be on the roads more often, and in more harsh weather. As the temperature drops, it's important to start crossing vehicle maintenance items off your to-do list.
Flush and Refill Your Coolant
It may be cold outside, but your cooling system still has a tough job to do. Coolant is a mixture of water and antifreeze, and it works all winter to keep your engine from freezing. Coolant also prevents rust and overheating. We suggest periodically flushing your old coolant and replacing it with new fluid because the rust inhibitors and other properties breakdown over time. If the coolant freezes in your car, you'll have much bigger problems on your hands than simply replacing the fluid.
Check the Battery and Charging System
Car batteries are especially susceptible to cold weather. Lower temperatures make it more difficult for the battery to hold a charge. Stop by a local Amarillo auto repair shop for a car battery check so you don't run the risk of being stranded. Our friendly technicians will also check the alternator and belts. Even if your battery is good to go, your alternator may not be able to generate enough power for your car or truck.
Keep the Windshield Clean and Clear
Visibility is essential when driving in inclement weather. You'll need to keep all of the rain, sleet and snow off of your windshield so you can see the road clearly. The summer heat will warp your windshield wiper blades, so it's a good idea to replace them when the weather cools down. Keeping the wiper fluid topped off is also a good practice to keep your windshield clear. Finally, the defroster will keep water and snow from freezing to your windshield. Go ahead and turn it on to see if it's working properly.
The skilled auto repair experts at Christian Brothers Automotive Amarillo will help you prepare your vehicle for winter. Call to schedule an appointment today, and experience the nice difference in car repair and maintenance!