Words to Say Through Tears of Grief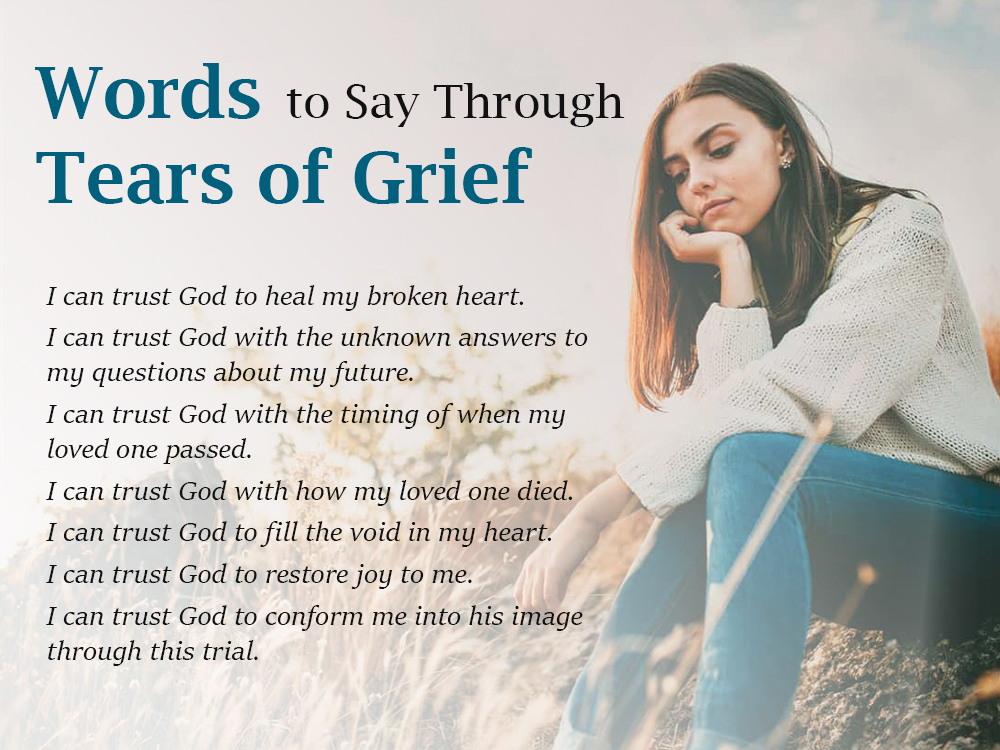 Grasping to truth through pain and grief.
Grief is hard. When a loved one passes, it is not uncommon to say things like, "She is in a better place," and, "God must have needed him more than we do." Grieved people also may say that "Death was the only way she could find peace."
These phrases are probably said because, when we are hurting from the loss of a loved one, we search for something solid to cling to during our storm of sadness and confusion. Some of the phrases are true, which give us hope and steadiness to ride through the storm, while others emanate the shallow beliefs of the worldly culture that surrounds us, rather than clinging to the solid truths of the Bible. These words may sound nice or comforting but they are not always true – or more specifically, not always fully true.
When we are looking for something to cling to in the throes of a storm, we search for words that will offer comfort. We do the same if we are striving to comfort someone else who is grieving. But we should be seeking to make sure that whatever we are clinging true stems from truth.
So what are the words that are profoundly true that we can grab onto when grieving that will anchor our souls that are tossing to and fro from the stormy waves of grief? There are many answers to this question, but the basic principle of any phrase that provides eternally true comfort should be built among this: "I can trust God with this."
A number of implications with this phrase can bring peace during periods of grief. The phrase, "I can trust God with this," means:
I can trust God to heal my broken heart.
I can trust God with the unknown answers to my questions about my future.
I can trust God with the timing of when my loved one passed.
I can trust God with how my loved one died.
I can trust God to fill the void in my heart.
I can trust God to supply all of my needs with his sufficient grace.
I can trust God to restore joy to me.
I can trust God to cause all things to work together for my good and for the good of all of those around me who love Him.
I can trust God to conform me into his image through this trial.
*Words to Say Through Grief quote from above image
And if we are uncertain whether the person who passed away is a believer or not, we can still say words of healing, such as, "I can trust that God knows who his children are, even if I do not." Remember that God is merciful and he loves to bring people to his family and he will do what is right and just.
When your heart is heavy, call out to God, asking him to meet you where you are and bring you comfort. Look to Psalm 42:3:
My tears have been my food
day and night,
while they say to me all the day long,
"Where is your God?"
Posted By
Christian Brothers Automotive
Categories: