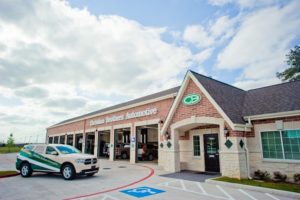 Many drivers don't like servicing their vehicles due to the inconvenience of auto repair shops. Sitting in an uncomfortable chair with no clue how long the service will take can be unnerving to say the least. At Christian Brothers Automotive Alamo Heights we provide great automotive service with an exceptional customer experience. Our friendly staff here in San Antonio have a few things you should look for before deciding where to service your Toyota, Nissan or whichever car you drive.
Trustworthy Advice from ASE-Certified Technicians
Any great auto repair shop will give you an unbiased service recommendation for what your car actually needs. You should be able to clearly understand the repair or maintenance recommendation and the costs associated with it. It's the mechanics that speak with too much technical jargon that may be trying to pull the wool over your eyes.
Christian Brothers Automotive in San Antonio is a locally owned shop that truly wants to serve the community. If you're looking for a trustworthy second opinion for a repair we're here to help and don't mind lending you our expert opinion. We also stand by our work with the 2-year/2,400-mile Nice Difference warranty.
Comfortable Waiting Room and Courtesy Shuttle
Auto repairs are usually not fast and if there's a line of cars waiting to be serviced, you could spend most of your day waiting at the auto repair shop. A great auto repair shop will keep you apprised of the wait-time when you drop off your vehicle. If you do have to wait at the shop for a period of time you should be comfortable. Many shops will now offer free Wi-Fi so you don't have to burn through your cellular data plan.
Of course, the best place to wait for your vehicle to be serviced is the comfort of your own home or at work so you can be productive! Our San Antonio auto repair shop offers a complimentary shuttle so you can wait wherever you would like.
Ask for Recommendations or Read Reviews
Recommendations from trusted friends or online reviews from real customers is a great way to make sure the auto repair shop is on the up and up. We highly encourage you to give us a call at Christian Brothers Automotive if you have any questions about your vehicle. You can also schedule your next service appointment to see just how smoothly your next auto shop visit can be. See the nice difference at Christian Brothers Automotive Alamo Heights!